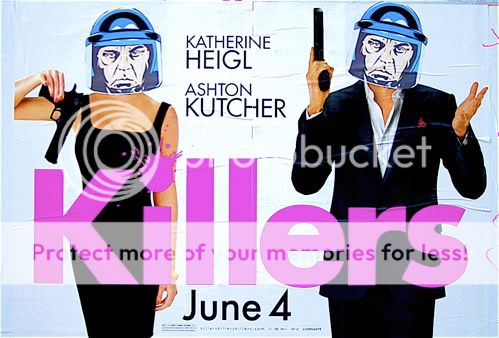 When Ray Noland (aka CRO) heard Mayor Daley's statement "Welcome to America. Americans kill each other every day..." it prompted him to create an image. The resulting print, "Daley Riot", features the scowling Mayor in full riot gear emblazoned with the phrase "Welcome to Chicago" on his chest.
The picture above was taken recently on the street and appears to be Noland riffing on the same theme in the public arena. We love how the menacing face of Mayor Daley perfectly fits the scale of this ad, and how it comically delivers subtle reinforcement of the Mayor's inflammatory and unnerving statement. Killing in America is as ingrained in our society as movie posters are. Welcome to Chicago. Chicagoans kill each other every day.
Ray Noland's upcoming solo show: Sweet Tea & American Values has its official opening on Friday June 11th from 6pm - 11pm at the newly renovated Chicago Urban Art Society in Pilsen. For now you can

check out Noland's website

Creative Rescue Organization where

you can peep his blog, see behind the scenes pics of the show installation in progress and purchase the print "Daley Riot".